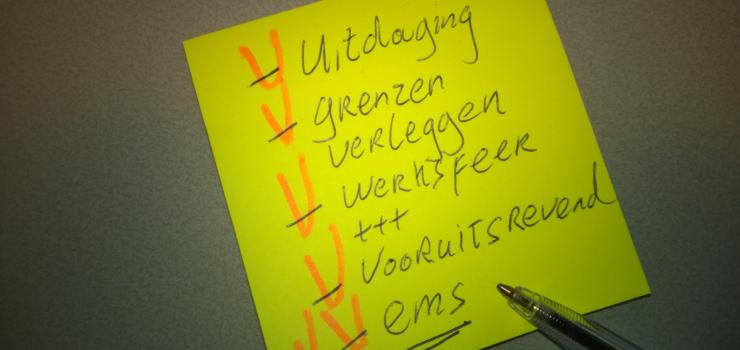 EMS searching for Colleagues in 2019 30 January 2019
EMS is searching for collegaues
Sales / commercial product specialists, with technological background
Accurate !!! working attitude
Self-checking, working independently or in a team
Autonomous approach, quality js the main topic
Familiar with the use of ICT systems such as purchase and sales orders in the ERP system
Must be able to negotiate on purchasing
Communicative, eager to learn and representative work attitude
Affinity with technology is a plus
Allround elektronica production specialist
Representative, autonous and precise attitude, experience with cabling, electronics and technology
Works independently or communicatively as a team
Customer-oriented work attitude, autonomous approach, goes for quality
Completed MBO training
Inventive / inquisitive, thinks outside existing frameworks / customer-oriented / goal-oriented
In the daily work you take care of the production of different types of electronic analysis and measurement systems. You perform this work in a team with several colleagues. The systems are built up several at a time step by step according to a drawing and an instruction manual. The construction of some systems can take several weeks. This work must be carried out accurately and very precisely. You must also have a feeling for the material and the knowledge of the use of the right tools. The work is very diverse. The work (among others) can consist of assembling small sensors, wiring cabinets, connecting (small) pipes, testing and measuring of printed circuit boards and wiring.
About EMS
EMS is a dynamic company where the customer playes an important role. In EMS hardware and software applications for gas measuring systems, dust measuring systems and analyzers aredesigned and built. The knowledge of the products that are developed are characterized by: Specific, high quality and innovative.
Our Company Is characterized by a good and open atmosphere. Salaries and Employment Conditions are-competitive. We expect otherwise excellent good skills in personal relationship and communication skills, a good knowledgde of the Dutch and English and an analytical and critical attitude.
Please contact us and send an open sollicitation request for a job accompanied by a clear C.V. to: EMS B.V. or connect by the contact page of the website.
Tel. 0166-657200 or Mob. 06-53.22.78.54
J.K. Boerman
Spastraat 30
4697 RZ SINT-ANNALAND