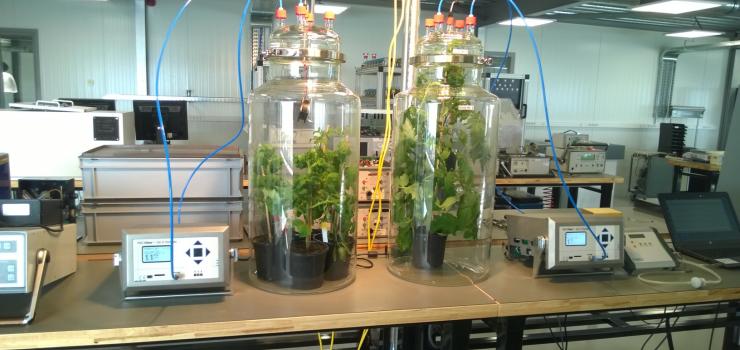 Ethene production from tomato crop 10 April 2017
EMS measured together with Leibniz Institute of Vegetable and Ornamental Crops in ultra low concentrations, the ethene production from tomato plants. This test took place in the laboratory of EMS. Two types of tomato plants were used, 1 standard ethene producing tomato crop cultivar "Moneymaker" and 1 cultivar called "Epi", which are mutants, modified tomato crops that produces a lot more ethene.
The results show indeed differences in production rates which are expressed in nl/g/hr (nanoliter ethene per gram green parts per hour). The "Epi" modified tomato plants produces about 2.5 times more ethylene then the standard cultivar "Moneymaker". A repetition of this test with other plants, results in exactly the same results and production rates. This test showed that it is easy possible to measure with the MACView Postharvest Ethene Analyser in the ultra low concentration range of a few ppb ethene without interfering gases. The measurements were taken automatically and the setup was buildup in minuts.
Also Mr. D. Schwarz is enthousiastic about the setup and the results. We look forward for a close cooperation !