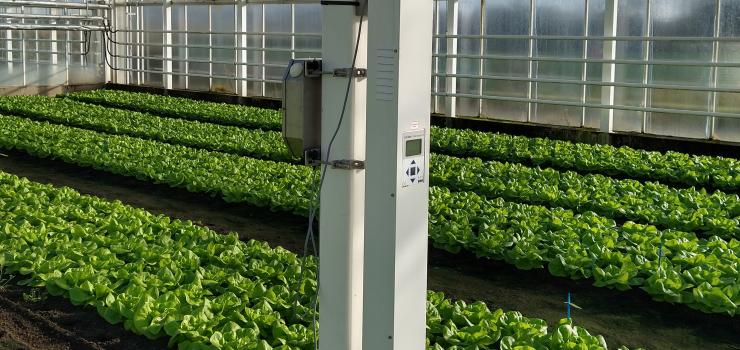 Limit value measurements for ethylene in lettuce and cucumber 17 March 2021
In greenhouse horticulture, damage to crops is regularly found, the cause of which is unknown. Damage to these crops can have major economic consequences for gardeners. The inexplicable damage observed could possibly be related to the dosing of CO2 with the aid of a combined heat and power unit (CHP) in which flue gases are introduced into the greenhouse. The positive effects of dosing CO2 are generally known: higher yield and / or better quality. A great deal of research is currently being conducted into the possible negative effects (C.J. v. Dijk et al. 2003).
Ethylene (C2H4) and nitrogen oxides are examples of the components that occur in the flue gases and that are blown into the greenhouse when dosing CO2 using a CHP, stove or old-fashioned gas stove. The damage observed in plants is mainly attributed to these two components (C.J. v. Dijk et al. 2003).
Relatively little is known about the concentration levels and the possible negative effects of toxic gases in the greenhouse. Requirements have been set for the maximum permitted concentrations of some toxic components in flue gases in order to prevent possible damage as much as possible. Despite the fact that flue-gas cleaning installations should ensure that these limit values are not exceeded, there are nevertheless regular cases of damage, both damage caused by a short-term high dose and by chronic exposure to too high concentrations of toxic substances, whereby growth remains and reduced quality are examples. of damage that occurs (Th. A. Dueck et al. 2008). Research has linked crude concentration levels to the occurrence of damage in various crops, but it is not known where the exact limit lies. The general damage threshold for ethylene in greenhouses is 50 ppb (Blankenship & Kemble, 1996); (Tonneijck & Van Dijk, 1994). In tomato, damage would occur between 10 - 50 ppb ethylene (Blankenship & Kemble, 1996; Peet et al. 2001), in cucumber at concentrations of <100 ppb (Abeles et al. (1992). the concentration levels at which nitrogen oxides and ethylene damage the crop, an investigation has been started in collaboration with EMS to find out at what level ethylene causes damage (either visual damage or growth retardation, etc.) to the crops of lettuce and cucumber. for cucumber, because these plants are often sensitive to gaseous substances, especially in closed spaces (W. Verkerke et al. 2002). Lettuce was chosen because little is known about this in literature. were exposed to different concentrations of ethylene Symptoms that were monitored are: leaf tissue death, chlorosis and growth reduction (JK Boerman & G. Bosman, 2014). pport? Click here