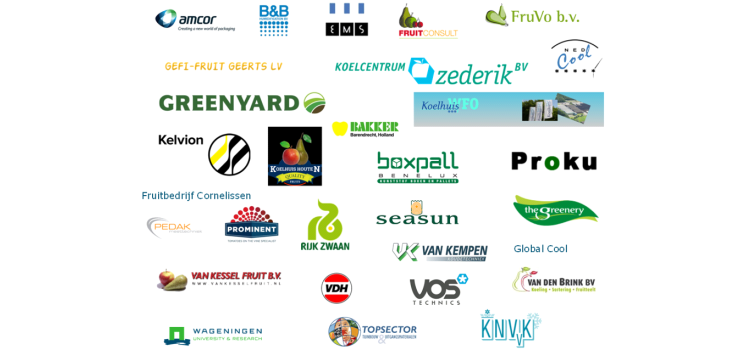 PPS has started: Less productionloss by sensing humistatus of pears and vine tomatoes. 29 March 2017
Een minder optimale vochtstatus leidt bij versproducten tot kwaliteitsproblemen, gewichtsverlies en waardeverlies. Om inzicht en meer grip te krijgen op de vochtstatus doen 29 bedrijven samen met Wageningen Food & Biobased Research onderzoek naar het voorkómen en beheersen van partijspecifieke, aan vochtstatus gerelateerde problemen. De kennis en technologie die ontwikkelt wordt in het Publiek-Private Samenwerkingsproject Humistatus, draagt bij aan de verbetering van de kwaliteit en vermindering van productverliezen.
Schimmel en fysiologisch bederf en uitdroging zijn bekende aan vocht gerelateerde problemen bij versproducten. Zo kunnen kwaliteitsproblemen ontstaan bij een lange bewaring van appels en peren, maar ook bij andere producten in kortere ketens, zoals trostomaten. Deze problemen treden veelal partijspecifiek op, tijdens bewaring en in de verdere afzetketen, waar slechts beperkt gestuurd kan worden op de vochtstatus
Vochtstatus onderzoek zowel fundamenteel als in de praktijk
Een van de doelen in dit project is om tot een biomarker als sensor te komen die de vochtstatus van partijen in de keten kan monitoren. Onderzoekers van Wageningen Food & Biobased Research werken in de onderzoeksfaciliteit voor naoogsttechnologie en agrofood robots aan de definiëring van het begrip vochtstatus en screenen mogelijke meetmethoden en nieuwe sensortechnieken op geschiktheid. Ook wordt onderzocht welke factoren tijdens de teelt relevant zijn voor een specifieke vochtstatus op oogstmoment en welke invloed die hebben op eventuele latere problemen in de keten of tijdens bewaring. Onderzoeksvragen zijn: hoe bepalend zijn bijvoorbeeld vochtaanbod en weercondities, net voor de pluk, op initiële vochtstatus en uiteindelijke kwaliteit van geoogste peren? Hoe bepalend is kasklimaat voor gevoeligheid voor kroonschimmel in de keten bij trostomaat?
In het project worden ook experimenten met diverse technieken, die de vochtstatus na de oogst kunnen beïnvloeden, in de praktijk uitgevoerd. Te denken valt aan verpakkingen en kisttype, de wijze van afkoelen, ventileren, etc. Daarnaast worden in het onderzoek effecten van duurzame vernieuwingen in de koeltechniek (o.a. impact van natuurlijke koudemiddelen) op vochtstatus en kwaliteit meegenomen. Vooral voor peren is de uitdaging een gelijkmatig celklimaat te creëren waardoor de productkwaliteit in de cel ook homogener wordt.
Publiek-Private Samenwerking
Het project is een Publiek-Private Samenwerkingsproject (PPS) binnen de koepel Tuinbouw Logistiek en wordt in 2020 afgerond. Penvoerder van het project is de Koninklijke Vereniging voor Koude (KNVvK). De PPS wordt gefinancierd vanuit de Topsector Tuinbouw & Uitgangsmaterialen, samen met private bijdragen van een brede groep van bedrijven: techniek (koudetechniek, sensortechniek, verpakkingen), hardfruit (teelt, bewaring, handel), tomaten (veredeling, teelt, handel).
Wageningen Food & Biobased Research

Persbericht 29 maart 2017