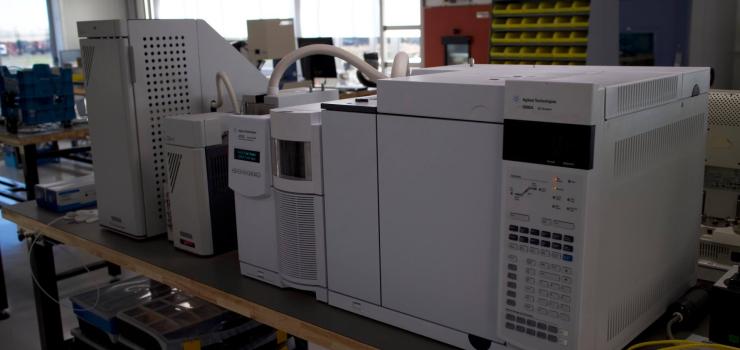 Gas analysis using the TD-GC-MS at EMS 28 March 2014
Since early 2014 EMS has a unique analysis system for the determination of gas concentrations. In a low range a whole array of hydrocarbons can be very detailed determined. This is usefull to perform both a qualitative analysis (type of gas) as well as from a quantitative analysis (Quantity gas).
The system is a TD-GC-MS. This is for thermal desorption gas chromatograph mass spectrometer.
The measurement procedure is as Follows: In a space of process a sample is drawn by means of a special sampling bag, or gas samples are taken through a gas pump transported into a sample tube or a samplebag. When this is done, the collected samplemust as quick as possible (within 24 hours) connected on to the Thermal desorber. The TD collects the gas from the sample bag. The concentrated gas is then transfered to the gas chromatograph. This GC separates the molecules from each other. The smallest molecules with the lowest boiling point come first out of the collumn and are led into the mass spectrometer. This mass spectrometer determines the mass of the molecules. The intermediate result of the time domain of the molecules measured to in the MS, form the relationship between the ion groups. This is data is ompared to a database. The result is that it is known from the equation what type of gases or molecules are all in the gas mixture.
This special technique can determine unknown molecules in unknow gas compositions. It allows the user to determine which unknown gases are present. In addition, this systems has the advantage that it has a very low detection of gas concentrations. We speak then about the ppb to ppt range.